EiR Blog
A Blog For Those Affected By Environmental And Invisible Illnesses Written By Fellow Survivors
Rifaximin Does Not Relieve Persistent Celiac Disease Symptoms or SIBO
Celiac.com 12/27/2011 - Non-controlled studies suggest that Rifaximin may improve celiac disease symptoms in such cases. However, up to now, no controlled trials have been conducted.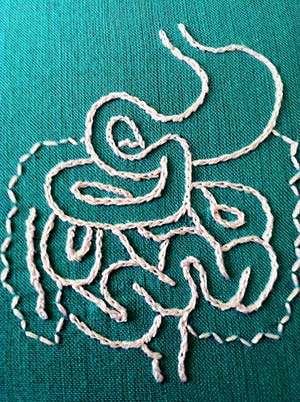 A team of researchers used a double-blind clinical trial to assess the effectiveness of rifaximin in relieving gastrointestinal symptoms in patients with poorly responsive celiac disease. They also assessed the effects of rifaximin on lactulose-hydrogen breath tests in those patients.


The research team included Matthew S. Chang, Maria T. Minaya, Jianfeng Cheng, Bradley A. Connor, Suzanne K. Lewis, and Peter H. R. Green.

Small intestinal bacterial overgrowth (SIBO) is one of the main reasons that certain people with celiac disease fail to respond well to a gluten-free diet, and why they often suffer persistent symptoms.

To make their assessment, the team designed a single-center, double-blind, randomized, controlled trial of patients with biopsy-proven celiac disease and persistent gastrointestinal symptoms despite following a gluten-free diet.

For the trial, the team 25 randomly assigned patients received a placebo, while the other 25 received rifaximin (n = 25) 1,200 mg daily for 10 days.

For each patient, the team then used the Gastrointestinal Symptom Rating Scale (GSRS) and administered lactulose-hydrogen breath tests at weeks 0, 2, and 12.

The team defined an abnormal breath test as showing either: (1) a rise in hydrogen of C20 parts per million (ppm) within 100 min, or (2) two peaks C20 ppm over baseline.

They found that rifaximin had no effect on GSRS scores, regardless of baseline breath tests.

Using a multivariable regression model, they found that the length of a patient's gastrointestinal symptoms significantly predicted overall GSRS scores (estimate 0.029, P=0.006).

According to criteria 1 and 2, respectively, SIBO was present in 55 and 8% of patients at baseline, intermittently present in 28 and 20% given placebo, and 28 and 12% given rifaximin.

Results showed no difference SIBO rates between placebo and treatment groups at weeks 2 and 12.

From their study, the team concludes that rifaximin does not improve gastrointestinal symptoms, and that hydrogen breath tests do not reliably show which patients will respond favorably to antibiotic therapy.